Printed by http://cuxhaven-bremerhaven.city-map.de/city/db/010202011501/the-island-heligoland
The Island Heligoland
Lun von Hillig Lun
In the own language of the nearly 1400 Heligoland inhabitants the North Frisian island is being called 'Lun von Hillig Lun' - 'Holy Land'.
The island Heligoland is situated in the German Bight around 2,5 hours from Cuxhaven, which means ca. 50km from the main land and thus to be seen from the main land in very good weather.
The Heligoland people have a strong self-reliance due to the high isolation in bad weather especially in the winter months when ship and flight connections are limited.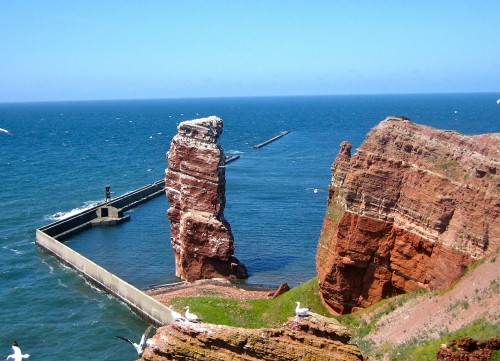 Image Copyright: R.Klose
Heligoland rises ca. 60m out of the sea. It is only one square metre large and offers a unique landscape, formed by wind and water. Northern gannets, cormorants, kittiwakes and common guillemots bustling about at the steep slopes of the coast. A nature trail invites exploring the native flora and fauna. Seals and horsehead seals tossing around at the beach and sometimes even play with the bathers in the water. The fresh sea air is especially good for allergy suffers and asthmatics.

The 'Lange Anna', since 1969 a natural monument, is situated in the north of the island. The 'Lange Anna' was connected to the main island until the year 1860.
Lots of restaurants, souvenir shops and boutiques round off a successful island trip.

Guests may travel to the island by ship or airplane. The ships sail from Büsum, Cuxhaven, Wilhelmshaven, Bremerhaven and Hamburg. Further information is available here.
Denmark occupied the island Heligoland from 1684 - 1689.
Apart from fishing and lobster catching the means of existence of the Heligoland inhabitants is based mostly on salvaging stranded goods and pilotage services.
In the year 1890 Heligoland is being taken in possession by the Germany under the Emperor Wilhelm II. In return Germany renounced rights to the East-African colonial area and not as widely assumed Zanzibar. Heligoland secured some privileges among others duty-free treatment.
With the start of the 1st World War 1914 the inhabitants left the island by imperial order.
During the war 4000 soldiers, mainly marine and navy air force were stationed here. After four years the citizens returned home.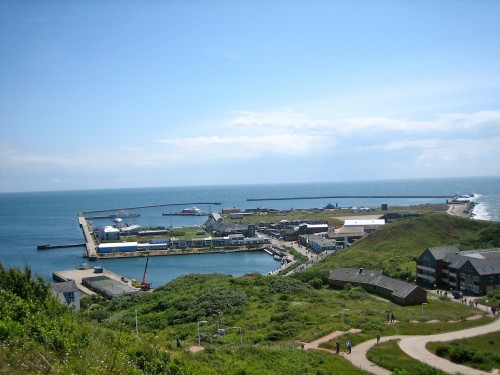 Image Copyright: R.Klose
In 1936 Heligoland is being declared a fortress again by Hitler. In April 1945 Heligoland is being bombarded by allied air forces. The only refuge was the island's bunker. An evacuation of all citizens started. In 1947 followed the island's the main destruction.
In the year 1950 two students raised the European flag and thus gave the impetus for further demonstrations, which in the end led to the return of Heligoland to Germany in the year 1952.